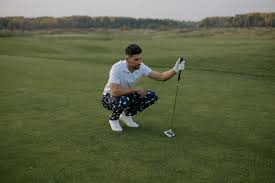 Introduction: The pre-shot routine is a vital aspect of every golfer's game. It sets the foundation for a consistent swing, enhances mental focus, and improves overall performance on the course.
In this comprehensive guide, we will delve into the key components of a pre-shot routine, its importance, customization strategies, and how it can elevate your golfing skills to new heights.
Understanding the Pre-Shot Routine.
The pre-shot routine can be defined as a systematic series of actions and mental processes that a golfer undertakes before every shot.
It encompasses both physical and mental preparations to achieve optimal performance. Let's explore the fundamental elements of a successful pre-shot routine.
Components of an Effective Pre-Shot Routine
To build a solid pre-shot routine, it's crucial to identify the essential components that contribute to its effectiveness.
By incorporating these components, you can establish a routine that suits your playing style and maximizes your chances of success.
Golf Swing Routine: A well-defined golf swing routine ensures consistency and helps build muscle memory. It encompasses the setup, alignment, and grip adjustments necessary for each shot.
Pre-Shot Preparation Process: This involves assessing the shot at hand, analyzing the environmental factors, and visualizing the intended outcome. It sets the stage for focused execution.
Mental Focus and Visualization: Cultivating a focused mindset and employing visualization techniques are crucial for success. Visualizing the shot in detail enhances confidence and helps overcome mental obstacles.
Shot Selection Considerations: Each shot requires a unique approach. Understanding shot selection based on the course layout, wind conditions, hazards, and pin positions is vital for making informed decisions.
Customizing Your Pre-Shot Routine
While there are foundational elements to a pre-shot routine, customization is key to aligning it with your personal style and preferences. Here's how you can tailor your routine to suit your game:
Personalizing the Routine: Adapt the routine to fit your natural rhythm, tempo, and comfort level. Experiment with different actions and sequences to find what works best for you.
Fine-Tuning Your Pre-Shot Routine
Mastering the pre-shot routine requires continuous improvement and refinement. Here are some strategies to enhance its effectiveness:
Practice and Repetition: Regularly practice your pre-shot routine to reinforce muscle memory and build consistency. Incorporate it into both your practice sessions and actual rounds.
Managing Pressure: Develop strategies to maintain composure under pressure. Utilize breathing techniques, positive self-talk, and visualization to stay focused during critical shots.
Pre-Shot Routine for Specific Shots
Different shots require specific considerations within your routine. Let's explore how to adapt the routine for different situations:
Putting Technique: Incorporate a specialized pre-shot routine for putting that includes reading the green, visualizing the line, and executing a smooth stroke.
Approach Shots: Adjust your routine for approach shots, considering factors such as club selection, shot shape, and distance control.
Bunker Shots and Chip Shots: Customize your routine to handle bunker shots and chip shots, focusing on setup, ball position, and swing technique.
Examples from Professional Golfers
Professional golfers are masters of their pre-shot routines. Examining their approaches can provide valuable insights. Here are a few examples:
Tiger Woods: Explore how Tiger Woods incorporates meticulous attention to detail and visualization techniques into his routine.
Lydia Ko: Learn from Lydia Ko's routine, which emphasizes relaxation, deep breathing, and mental clarity.
Conclusion
A well-executed pre-shot routine is a game-changer in golf. By implementing the fundamental components, customizing it to your style, and refining it through practice, you can elevate your game to new levels.
Embrace the power of the pre-shot routine, and watch your consistency, focus, and overall performance soar.